GS Grid Tool?
This is a Plastic with mild self adhesive printed with a Grid pattern of 1 inch that will help you on seconds to measure your old decals to be copy, restored or replicate them.
We have developed an original new system to make custom decal replicas, using our "GS Grid" you can get as accurate as possible on your measurements. We are proud to say that we have invented this tool and method to reproduce almost any graphics, applying reverse engineering to make any decal you want. Easy!!
Your GS Grid can be used for more than 20 times, can be more or less depending the cleaning condition or the areas where it is applied.
How to it works?
First you have to get our "GS grid" decal measuremnts tool:


You can buy one GS Grid from us

Or you can download and print one copy here
Print the GS Grid over tissue paper, rice paper, onion skin paper or any other clear paper that you can see thought.
If you are using paper you can put any kind of non corrosive oil on the opposite printed side of the paper to make it a little more transparent.
Put the GS Grid on top of the area you want to copy, make sure it is covering every curve shapes, and also make sure that it is align to any straight main detail of the subject.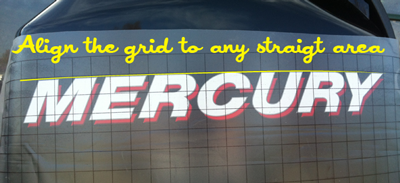 Take as many pictures you can to get as much details the better, we prefer high resolution images. One full view picture and then brake the view on couple pictures to get more details.


Remove the tape and take some more pictures to get those little micro details.


Send us those pictures via email, we will do the rest.
See how we transform those pictures on such accurate way to do reverse engineering to any decal or subject to copy.
1. We import your pictures to the computer and crop the area whare your decal is located.
2. We paste the decal area to our digital grid system.
3. Decal is transformed to match proportions of the outboard decal.
4. That's all we got a perfect image to work and vectorize the decal image on the exact proportions.
This is been the most effective tool ever used to make replica decals of boats outboards or anything else you get on mind, the options are endless.